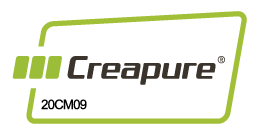 Creatine monohydrate (Creapure®) Cibeles Nutrition, helps improve physical performance, delaying fatigue and increasing muscle power and strength.
Composition:
100% Creatine Monohydrate.
Indications:
In athletes who seek to increase muscle power and strength. Increase muscle mass. Delays muscle fatigue thus improving physical performance. Improves post-exercise recovery. Also recommended as a supplement in people who follow vegetarian or macrobiotic diets.
Function:
Creatine is suitable for athletes whose training involves short and intense periods of force. Thus favoring footballers, cyclists, rugby players, basketball players, tennis players, sprinters, and all those who need to recover from intense efforts and quickly recover from fatigue. Creatine allows you to train with greater intensity, improve muscle recovery and anaerobic capacity.
Preparation mode:
Add 1 measuring measure (5 g) to any drink of your liking, shake and consume.
It is recommended to prepare it preferably with juices or drinks that contain sugars.
Presentation:
500 g cans.
Flavor:
Without flavor.
SUITABLE FOR CELIACS.
FREE OF LACTOSE AND CHOLESTEROL.
Learn more about our globally recognized supplier: www.creapure.com